~*Ashiy*~
Magick Faery Butterfly
08 August 2028 @ 08:08 am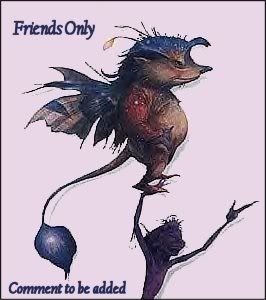 Introduction
* Hello there! My name is Amelia, but you may call me Ashiy.
* I created this livejournal as I decided my main one (
pudding_girl
) should be kept to my everyday life, so as not to freak out my friends!
* This lj will be recording my journey into the spiritual world, and I'm hoping that this will make it easier for me to see my progress.
Background
* I am 21 and have just finished studying Psychology at Derby University in England.
* As a child I always believed in faeries/unicorns/angels. And believed in Father Christmas and the Tooth Fairy longer than most children.
* As an early teenager I dabbled in Wicca, but didn't find it much to my liking (plus my spelles never worked!)
* My first crystal was either a piece of tumbled amethyst or a piece of tumbled rose quartz. I am not entirely sure which.
* I was reawakened to the Spiritual world by a twist of fate. An illness had prevented me from going back to University, this allowed me to accompany my mother to a "mind, body, spirit" festival. Since then I have been engrossed in the spiritual world, to the point of neglecting my academic work.
* I received spiritual healing at this festival and was told that I had much more energy around my crown chakra than someone of my age, along the lines of medium and such. I'm not entirely sure about the truth of this, but neverthless it has intrigued me!
FAQ's
*
I'm confused, what is your name?
- My real name is Amelia, but this journal is called Ashiy.
*
So what shall I call you?
- Ashiy would be easiest for everyone to remember, since it is my journal name, but either one is fine.
*
Where did the name "Ashiy" come from?
- The night of Tuesday 6th July 2005 I had a rather nice dream. Without boring anyone, it involved me falling in love with a lovely guy. This dream meant something to me as I rarely fall in love in dreams, I'm normally already in love (if that makes sense?). He also happened to be from another crowd, from the "popular boys" crowd (I was in the misfits crowd). Although he was slightly different to the rest of the populars, for a start he had longish hair (chin length and flicky, which I love), and while the other boys wore tuxes of a normal colour, his was the colour of hematite! I'm not entirely sure of his name, but Ashiy was the name/surname of someone in my dream, so I gave him that name. This dream had such an effect on me, that I spent all day at work thinking about this Livejournal!
(25th June 2007 - Looking back, this perfectly describes my current boyfriend, Aaron, who I know to be my soulmate!)
*
What is your favourite colour?
- I have 2: for my spiritual side, green is my favourite, and purple is my favourite for my normal side.
*
What is your favourite crystal?
- If I must pick just one, then Amethyst (only the deep purple kind). But I also have a fondness for Fluorite (the colours!), Smokey Quartz and Snowy Quartz!
*
What is your favourite flower?
- Lavendar! It is purple and green, hehe!
*
May I befriend you?
- Sure, I wouldn't mind if you dropped me a comment saying how you found me though!
*
May I befriend your other journal?
- If you want to, I only talk about University/normal life, so it may be a bit boring to people who don't know me.